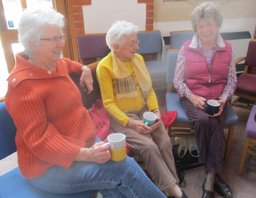 Special services:
From time to time, we have services which are a little different from the norm, such as Cafe Church and All Age Worship.
Cafe Church takes place in the evening and sees the church re-arranged into its cafe style, light refreshments are served and we have a topical speaker instead of a minister or lay preacher. There is always an opportunity to discuss the topic of the day with others and the speaker takes questions from the congregation. We have recently also made use of zoom to include speakers from further afield.
The next Cafe church will be - to be announced.
We also have All Age Worship several times a year, which is a shorter, more interactive service, involving all the congregation - the children do not leave us but take a part in the worship. Often with dramas, activities, discussions and our live band, it is ideal for families and those new to the church.
The next All Age Worship - 10th December,1030.
Last but not least, is our 3 Course Worship which starts with a mini traditional service, then a break for refreshments with a variety of workshops, followed by a more modern worship style - the input from the workshops are incorporated into this part of the service. You can choose which of the 3 "courses" you wish to join, 1 2 or all 3!
The next 3 Course Worship - to be announced.